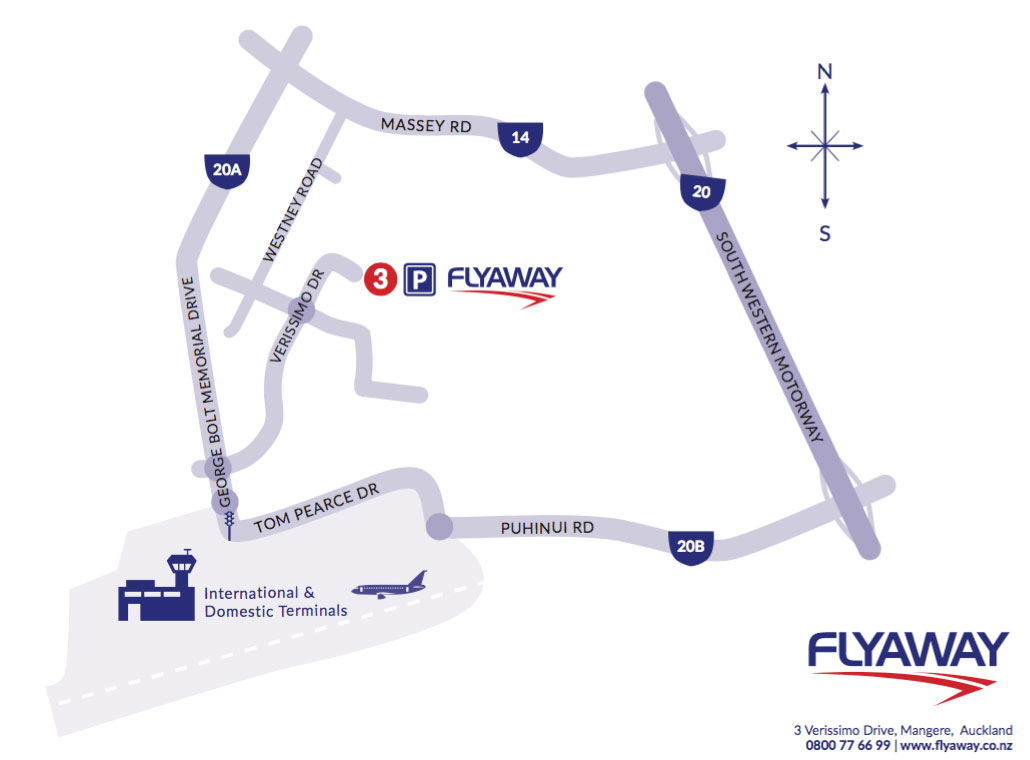 Driving Directions to Flyaway; 3 Verissimo Drive, Māngere, Auckland Airport 2022
Be aware that there is an Auckland Airport Park and Ride service located at 42 Verissimo Drive – THIS IS
NOT US. We are approx. 1 km along Verissimo Drive from the George Bolt Drive roundabout. Do not park
at the Airport Park and Ride.
Arrival: Please be at our depot and checked in with us at least 30 minutes before your scheduled flight check-in time opens. Please note that your check-in time will be different to the time that check-in and bag drop closes. On arrival with us, please check in at Reception, unload your bags, leave us your car key only and a shuttle will transfer you to the Airport. If you have considerable luggage or especially large items such as surfboards and/or many passengers, drop them off at the Airport prior to coming to the yard. If the yard gates are closed please call us on 0800 77 66 99 option 1.
Running Late: If you are running late, please call us on 021 431 822. If you have insufficient time to park with us, please go directly to the Airport, check in and then call us so we can cancel your booking. If you have pre-paid your booking we will arrange a refund. Please note we do not refund no-shows.
Please note, traffic around the airport can be very busy, especially at holiday periods – please ensure you give yourself plenty of time.
Print Map
3 Verissimo Drive,
Mangere,
Auckland Airport,
2022