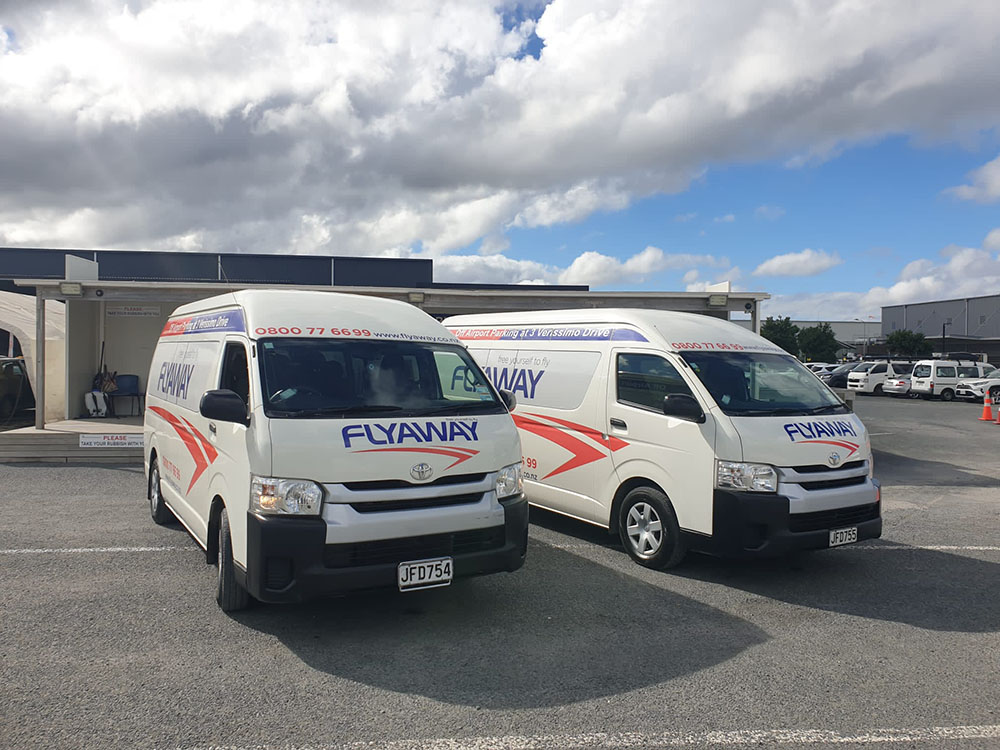 When you fly out
Drive your car to

Flyaway and park in the area marked Drop Off adjacent to our reception

. We're situated at 3 Verissimo Drive, Mangere a little more than 3kms from the Terminals. We are open 24 hours a day 365 days a year. If the automatic gate is closed on your arrival please call us on 0800 77 66 99 option 1 to talk to our shuttle drivers, they won't be far away.
When making your plans please ensure that you are with us well in advance of your flight. Airline check-in times vary so whatever your arrangements and whoever you are flying with please be with us AT LEAST 30 minutes before your required check-in/reporting time of your fight so we can be sure of getting you to the Terminal in good time.
We will quickly check you in, ask for your keys and take payment from you if you have not booked and paid online already.
You will travel to the airport on the next available shuttle. Our shuttle driver will load your bags into our van and drive you to the airport terminal, just 5-7 minutes away.
The shuttle will drop you off right outside the Domestic or International Terminal. Luggage trolleys are available outside the Terminals.
Back at Flyaway our yard staff will park your car and will then ensure that it is ready for your return outside our reception area.
Where we hold your keys our staff will complete a 'condition report' for your vehicle, noting any scratches, dents etc plus make a note of the fuel level and odometer reading. We strongly recommend you take photos of your vehicle at the time of Drop Off. This will assist you and Flyaway in the event that you collect your vehicle and find damage that you believe was not there when you dropped it off.
We request our customers NOT to leave valuables in their vehicles – Flyaway accept no responsibility for vehicle contents.
Should your plans change please advise us as soon as possible by emailing us parkit@flyaway.co.nz
Please note that all our staff are Police Checked for character and will hold the necessary licence to perform their duties.
When you fly in
If you are coming off an International flight it can take just a few minutes to get through the airport formalities OR it can take quite a bit longer depending upon how many planes have landed and what the immigration and customs queues are like so……
Once you are in the Arrivals area of the Domestic or International Terminal make your way to the pick up areas below and once there give us a call on 0800 77 66 99 and press option 1 to talk to our shuttle driver.
Currently at the Domestic Terminal the pick-up point is beneath the Control Tower which is located close to the Jetstar exits by Door 7. NOTE – The International pick up area has recently changed. Please Exit from Door 8 and follow the signs for Transport Pick Up Zone via the covered walkway behind the Novotel.  Because we operate an 'on demand' service the driver may already be close to the Terminal or he will leave our depot to come and collect you. We endeavour to keep all waiting time to a minimum and our shuttles are normally outside each Terminal every 20 minutes or so.
To help minimise waiting time, if there are more passengers than seats available on the shuttle we may invite just the drivers to come and collect the vehicle.
Once back at Flyaway you'll find your car waiting at the front of our reception area. Please collect your keys from our reception staff who will check you out.
Regardless of how late your flight gets in or how much you're held up in customs/immigration, because we never close our shuttle will always be available for you.
If you took your keys with you please notify out staff that you are collecting your vehicle and they will check you out.